We have always known that HBC is widely used. We've had some idea of how many downloads have been completed, and by sorting on unique IPs we could get an idea of the overall distribution.
Update: As promised. As of 2010-08-31 we have 266440 unique installations. System Menu 4.3 is catching up to 4.1 in the USA. 4.2 is still by far most popular.
Update 2: Comments closed for article. Too much OT/Other. For further discussion, start a thread in the forums. As of 2010-09-13 we have 339170 installations! 71% of all installs use 1.0.8.
Update 3: As of 2010-11-05 we had 593658 unique installations!
Since the release of HBC 1.0.7 (also covering 1.0.8) we have added anonymous usage statistics via your HBC's User Agent header field. This allows us to more accurately see how many active Homebrew Channel installations exist in the wild. We would like to share these statistics with you.
To calm any potential fears from our users it's important to note that we cannot use this information to track:
Who you are
What software you have installed (beyond the HBC and System Menu versions)
Any kind of software / hardware modifications done
… and so forth.
If you have any outstanding opinions about this, comment on this article.
During the first 24 days after the launch of the new hackmii installer we have counted 192708 unique installations! The number is probably slightly higher, as some Wiis are not configured to connect to the Internet.
Click the thumbnails below to enlarge the graphs.
Unique installations per day (in 1000s) for HBC 1.0.7 and 1.0.8: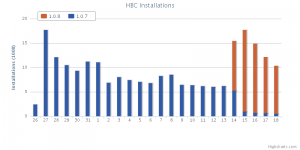 We see a higher installation pace of HBC 1.0.8 than 1.0.7 on release.
Total installations per region: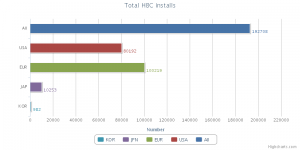 Where you are (according to GeoIP):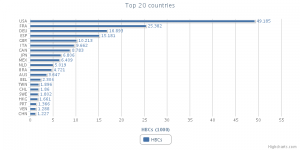 Unsurprisingly, USA, France, Germany, Spain, and Great Britan dominate the list. So we have assembled another graph showing HBC installations per capita for the top 20 countries. We would like to do the same graph based on Wii sales per country, but we have not found good a good source for those statistics. If you know where to find those stats, please comment!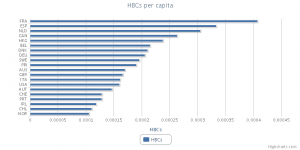 We find that most people still use System Menu 4.2, followed by 4.1 in all regions: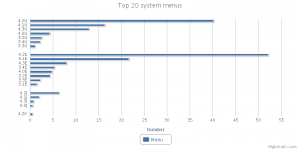 Looking at the same statistics for 1.0.8 alone we see about the same version distribution. Which means that people do not tend to upgrade to 4.3 in order to gain USB2 functionality — yet. This of course not counting users using other means of getting IOS58 such as Tantric's IOS58 Installer.
Some other interesting statistics:
Less than 6% of our HBC users have performed any kind of system change after installing HBC (System Menu update or Region sex change of their console).
About 10% use System Menu 4.3 across all regions.
We average 2.5 served requests per second from all Wiis checking for HBC updates. This means that 2.5 people boot up HBC while connected to the internet every second.
Currently we're serving a new unique HBC installation about every 14th second.
As the rate of new installations starts to decline I will update this post with more accurate statistics on the total size of the HBC userbase.
Finally a quick warning about the use of some region change tools: We have noticed that the use of region sex change tools on your console can in some cases set the region too literally.
We have only seen 4 valid region/area combinations set by Nintendo (even if you change your Area in System Menu Settings): EU-EUR, US-USA, JP-JAP, and KR-KOR. The first part is the actual console region, and the 2nd part is supposed to define the area you reside in. Nintendo has defined all the areas / countries, but they are apparently unused. Except when you use a region change tool.
For instance, if you're located in Australia your region might end up as EU-AUS. We have seen some impossible regions such as US-EUR, EU-JPN, EU-USA, etc.
This is not a big issue, but you should be aware that Nintendo might detect this if you use any of their public services such as the Wii Shop Channel. We are currently unaware of any actions taken based on this.